Craft Your Strategy with
Premier Product Strategy

Consultants
With hands-on experience in both product strategy consulting and custom software design and development, we translate your vision into actionable strategies that resonate in today's fast-paced digital markets.
Why Work with Busy Rebel for Product Strategy Consulting?
Benefits of Choosing Busy Rebel for
Product Strategy

Consulting
Craftsmanship
Clarity
Commitment
While numerous firms offer product strategy consulting, Busy Rebel carves a distinctive niche, embodying innovation, dedication, and unmatched proficiency.
Here's why joining forces with us on your product strategy journey distinguishes you from the crowd:
In-Depth Market Insight
With our experience and academic approach, we guarantee your product strategy aligns seamlessly with market trends, catering to the unique preferences and expectations of your audience.
True Strategic Allies
Beyond the realm of traditional product strategy consulting firms, we immerse ourselves into your vision, understanding the intricacies of your challenges and aspirations, ensuring the strategies we design are transformative.
Innovative Yet Grounded Approaches
By integrating the best of consumer products digital marketing strategy consulting with modern solutions, we ensure your strategy is both cutting-edge and actionable.
Ethical Strategy Crafting
At Busy Rebel, every product strategy consultant ensures our work is deeply rooted in ethical guidelines. We focus on making a tangible positive impact, all while cementing profitability for your venture.
Experience the Busy Rebel difference firsthand. Let's transform your ideas into actionable, results-driven strategies!
The Blueprint to Success: Data-Backed Reasons to Say Yes to
Product Strategy Consulting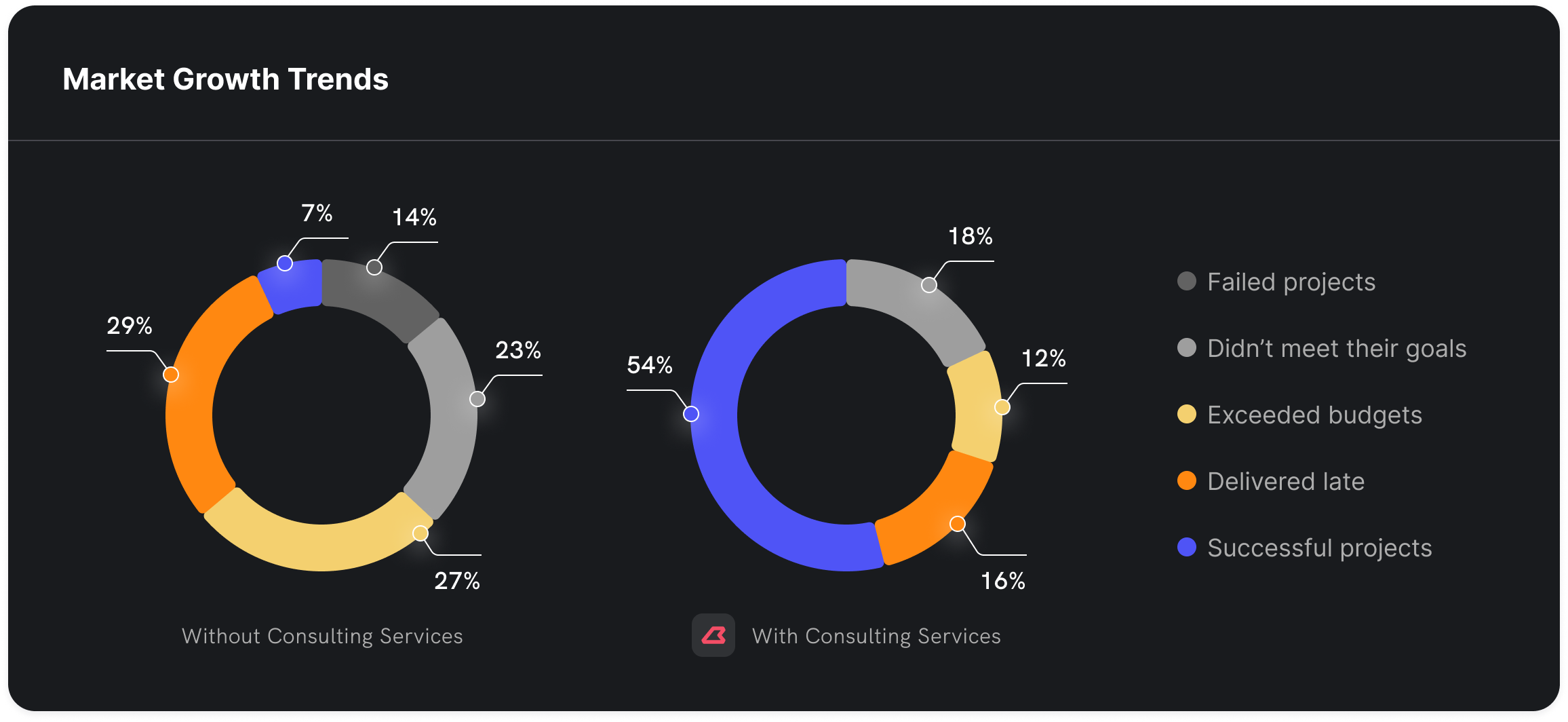 This data is based on a study by the Project Management Institute (PMI).
We attain these outcomes by focusing on the
right approach

:
Strategic Deep Dive
We don't just advise; we immerse ourselves in your vision. By understanding your challenges and aspirations, our product strategy consultants ensure the strategy crafted perfectly aligns with market needs and your brand ethos. This includes stakeholder engagement, opportunity mapping, and setting tangible objectives.
Tailored Solution Ideation
Our team meticulously ideates custom web and mobile app development strategies. The focus is on solutions that offer substantial value and address real-world challenges, ensuring your digital offerings resonate with the intended audience.
Intuitive Framework Design
Leveraging insights from our consumer products digital marketing strategy consultants, we structure a framework tailored to your unique requirements, ensuring both innovation and feasibility.
Implementation & Rollout Planning
Once the strategy is crafted, our emphasis shifts to its seamless execution. With a roadmap in place, we guide you through the rollout, ensuring every facet aligns with the formulated strategy, from custom software design to development.
Craft the Perfect Strategy for Your Vision
Diverse Consulting &
Product Strategy

Types

Tailored

for Every Digital Ambition
Every business challenge is distinct, and the strategy to address it should be equally bespoke. At Busy Rebel, we acknowledge the multifaceted nature of the digital world and the varied needs of businesses within it.
This understanding fuels our diverse offering of consulting and product strategy services, ensuring you always find the perfect fit for your objectives. Delve into the types of consulting and strategies we specialize in.
Data-Driven Product Innovation Consulting
Specializing in leveraging big data and analytics to drive innovative product development, ensuring strategies are informed by actionable insights and market trends.
Sustainable Growth Strategy Development Consulting
Crafting long-term growth strategies for products, focusing on sustainability and scalability, ideal for startups and enterprises aiming for enduring market presence.
User Experience (UX) Design Consulting
Integrating UX principles into product strategy to enhance user engagement and satisfaction, crucial for digital products and applications.
Emerging Technologies Integration Consulting
Consulting on the integration of cutting-edge technologies like AI, ML, and IoT into product development, positioning clients at the forefront of technological advancement.
Global Market Entry and Expansion Strategy Consulting
Assisting businesses in strategizing their entry into new markets or expanding their presence globally, with a focus on compliance, cultural adaptation, and competitive analysis.
Product Lifecycle Management Consulting
Offering expert guidance on managing the entire lifecycle of a product, from conception to retirement, ensuring efficiency and market relevance throughout.
User Experience (UX) and Technical Writing Consulting
Specializing in crafting clear, concise, and user-friendly content for digital interfaces, ensuring seamless user interactions. This service focuses on developing technical instructions and guidelines that enhance user understanding and engagement with products.
Confused about which strategy type aligns with your business needs? Let a Busy Rebel product strategy consultant help you out.
Craft the Perfect Strategy for Your Vision
Real-world Impact,
Tangible Results

, and Satisfied Clients
Let's Connect

and Talk More About Product Strategy!
Insightful FAQ into Consulting & Product Strategy
Delving into FAQs About Busy Rebel for
Global

Product

Strategies
How does Busy Rebel approach market analysis in product strategy?
Busy Rebel employs a data-driven approach to market analysis, utilizing advanced analytics and market research techniques. We focus on understanding customer behaviors, market trends, and competitive landscapes to ensure your product strategy is robust and market-responsive.
What is the process for engaging Busy Rebel for Product Strategy Consulting?
Engaging with us is straightforward. Start by reaching out through our contact form or email. We'll then schedule a consultation to understand your needs and discuss how our services can align with your project goals. From there, we tailor a bespoke strategy that fits your unique requirements.
Can Busy Rebel assist with integrating emerging technologies into our product?
Absolutely. Our team specializes in the integration of emerging technologies like AI, ML, and IoT into product development. We provide expert guidance on leveraging these technologies to enhance your product's capabilities and market appeal.
Can Busy Rebel aid in revising a pre-existing product strategy to better address the evolving dynamics of a diverse global market?
Yes, Busy Rebel is adept at refining and enhancing pre-existing product strategies to align with the dynamic and diverse demands of global markets. Our approach involves a thorough analysis of your current strategy, identifying areas for improvement, and integrating new market insights. We focus on adapting your product to meet evolving consumer preferences, regulatory landscapes, and competitive challenges. By leveraging our expertise in global market trends and innovative technologies, we ensure your product strategy is not only relevant but also ahead of the curve, maximizing its potential in diverse markets. Our goal is to transform your product strategy into a versatile and robust roadmap that drives growth and success in the ever-changing global marketplace.